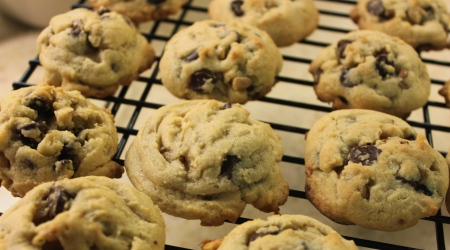 Over the years, I have tried and failed at many chocolate chip cookie recipes–never seemed to get the ratio of flour to butter right. Until now! This recipe is from The Joy of Cooking, but I add more flour than the original recipe calls for. And the cookies are perfect! I spent a lazy Sunday morning baking this batch with my toddler son, and he agrees they're yummy

Ingredients:
1 cup, plus 4 Tablespoons all-purpose flour
1/2 teaspoon baking soda
1 stick unsalted butter, softened
1/2 cup granulated sugar
1/2 cup light brown sugar, packed
1 egg
1/4 teaspoon salt
1 1/2 teaspoon vanilla
1 cup semisweet chocolate chips
1 cup walnuts, chopped
Directions:
Pre heat oven to 375 degrees F.
Spray cookie sheet lightly with Pam cooking spray. Set aside.
In a small bowl, whisk together flour and baking soda. Set aside.
In a separate large bowl, beat together butter, sugar and brown sugar with an electric mixer. Beat until very fluffy, about 5 minutes.
Add egg, salt and vanilla to butter mixture. Beat with mixter until combined.
With a spoon, stir flour mixture into butter mixture until well blended and smooth.
Stir in chocolate chips and walnuts.
Drop dough by heaping teaspoonfuls onto cookie sheet, spacing 2 inches apart.
Bake 8-10 minutes until lightly browned around edges.
Remove sheet from oven and let cookies stand 3 minutes to firm slightly.
With a spatula, transfer cookies to a wire rack to cool completely.

Related Recipes