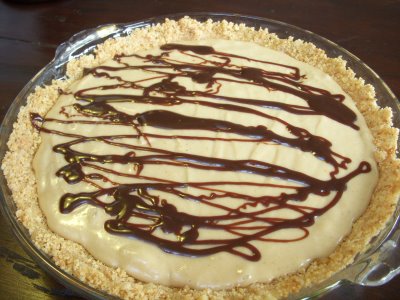 My sister served this pie years ago, and with one bite I was hooked! It's sweet and rich, with an amazing combination of flavors–peanut butter, banana, cream cheese, chocolate. YUM! It's a huge hit any time I serve it. Plan ahead when making, as it freezes 8 hours before serving.
Ingredients:
1 1/2 cup crushed graham crackers
1/4 cup granulated sugar
1/3 cup butter, melted
3/4 cup packed brown sugar
1/2 cup cream cheese, softened
1/2 cup creamy peanut butter (I recommend using natural vs processed, like Jiff)
1/2 teaspoon pure vanilla extract (not imitation)
8 oz whipped cream (I stopped using Cool Whip years ago–it's nothing but oil and chemicals. I recommend using real whipped cream instead.)
1 1/2 cup sliced fresh banana (about 2 medium sized)
1/4 cup melted chocolate
Directions:
To make crust –
Pre-heat oven to 350 degrees F.
Spray 9-inch glass pie plate with Pam cooking spray.
Place graham cracker crumbs, granulated sugar, and melted butter in pie plate.
Mix well, until crumbly.
Press crumb mixture into pie plate to form crust.
Bake 10 minutes.
Remove from oven and cool completely.
To make pie –
Place brown sugar, cream cheese, peanut butter, and vanilla in large bowl.
Beat with electric mixer until smooth.
Fold in whip cream and stir until blended.
Arrange banana slices evenly on bottom of cooled pie crust.
Pour pie filling on top of banana slices and spread with a spatula.
Drizzle with melted chocolate.
Cover with plastic wrap and freeze 8 hours.
Remove from freezer and let sit at room temp for 30 minutes prior to slicing and serving.

Related Recipes