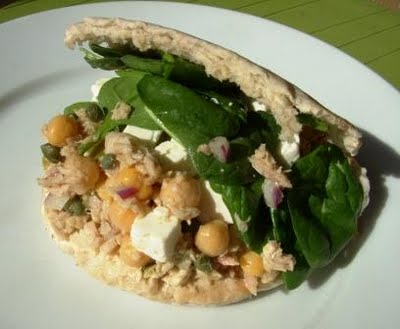 This recipe is packed with healthy foods and tastes so good too! The tuna is dressed up with olives, capers, onions, and fresh lemon juice. This recipe makes enough tuna salad for 4 pitas–good idea for a lunch with friends or a light family dinner.
Ingredients:
2 cans (6 oz. each) tuna, packed in water, drained and flaked
1 can (15.5 oz.) chickpeas, drained and rinsed
1/4 cup red onion, minced
1/4 cup green olives, chopped
2 Tablespoons capers
1/4 cup fresh squeezed lemon juice (do not use bottled)
1/4 cup extra virgin olive oil
1 Tablespoon Dijon mustard
1 cup cup fresh baby spinach leaves, rinsed
1 cup feta cheese, crumbled
4 small pita rounds, toasted
Garlic salt and fresh ground black pepper, to taste
Directions:
In a large bowl, gently toss together first 5 ingredients (tuna thru capers).
In a separate small bowl, whisk together lemon juice, olive oil, and Dijon mustard until well blended.
Pour olive oil mixture into bowl with tuna and fold together. Add garlic salt and black pepper to taste.
Divide tuna salad, spinach leaves, and feta cheese evenly into 4 servings. Stuff 1 serving into each pita round.

Related Recipes