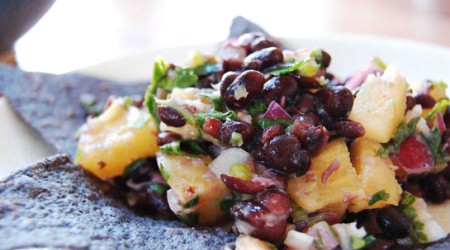 This is a delicious recipe for fresh salsa with a twist! The flavors of fresh fruit and black beans go great together!
Ingredients:
1 can (16 oz.) black beans, drained and rinsed
3 Tablespoons fresh squeezed lime juice
1/2 cup red onion, finely chopped
1/3 cup fresh cilantro, minced
1 can (20 oz.) fresh pineapple, diced
2 Tablespoons pineapple juice
Garlic salt and freshly ground black pepper, to taste
Dash of cayenne pepper
1/2 teaspoon minced garlic
Directions:
In a medium bowl, add rinsed and drained black beans.
Pour lime juice over beans and coat evenly.
Add chopped red onion, cilantro, pineapple, pineapple juice, and garlic.
Slice open jalapeno, removing seeds and white pith on the inside. Mince into small pieces and add to bowl of salsa.
Add garlic salt and pepper, to taste.
Add dash of cayenne pepper.
Gently mix everything together well.
Cover and refrigerate at least 2 hours to chill.
Serve with tortilla chips, or on top of grilled chicken.

Related Recipes