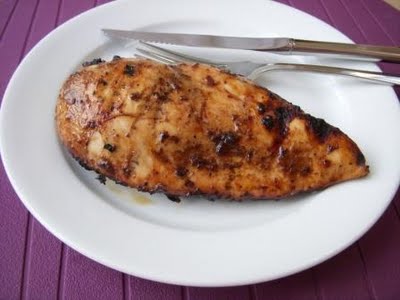 This recipe could not be any easier or any tastier! Prep in the morning, marinade all day, then grill at dinner time. Goes great with Scalloped Potatoes, Broccoli Cheese Bake, Grilled Asparagus and Roasted Garlic Lemon Broccoli. Just about any side dish on here, really. Leftovers are just as delicious the next day!
Ingredients:
4 large boneless, skinless chicken breasts
1 package Good Seasons Italian Dressing mix
Balsamic vinegar
Extra virgin olive oil
2 garlic cloves, minced
Fresh ground black pepper, to taste
Directions:
Prepare Good Seasons Italian Dressing mix as directed on package, using high quality balsamic vinegar and extra virgin olive oil.
Pierce chicken breasts with a fork in several places. Coat with fresh ground black pepper to taste.
Place chicken breasts in a large zip lock bag. Add Italian dressing and garlic.
Seal bag, pressing out all excess air.
Marinade 6-8 hours in refrigerator.
Heat grill to medium heat.
Remove chicken breasts from bag of marinade. Discard excess marinade.
Place chicken breasts on hot grill. Cook 8-10 minutes PER SIDE, depending on thickness and desired doneness.
Remove from grill and let set 5 minutes before serving.

Related Recipes