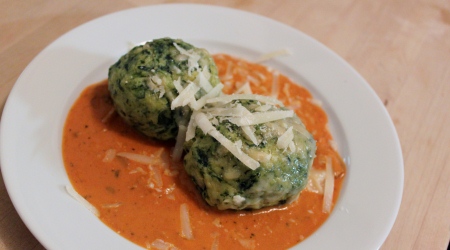 Try these cheese and spinach dumplings for a change from regular pasta. Serve with your favorite pasta sauce. They are delish! Thanks to my Mom for finding the recipe.
Ingredients:
1 (16 oz.) package frozen chopped spinach, thawed
1 cup ricotta cheese
2 eggs, plus 2 egg yokes
1 teaspoon dried Italian herbs
Garlic salt and freshly ground black pepper, to taste
1 1/4 cup all purpose flour, divided
8 cups water
1 1/4 cup freshly grated parmesan cheese, divided
Directions:
Bring 8 cups of water to a boil over high heat.
Spray baking dish with Pam cooking spray. Set aside.
Pre heat oven to 350 degrees F.
Squeeze all excess water from thawed spinach and place in a large bowl.
Add ricotta, 1 cup parmesan, 1 cup flour, eggs, yolks, Italian seasoning, pepper and garlic salt to spinach in bowl.
Mix well.
Shape mixture into 8-10 balls.
With remaining flour, pat outside of balls until just covered.
Reduce heat under boiling water to medium, keeping a rolling boil.
Carefully place dumplings into water one or two at a time.
Cook 2 minutes, until dumplings begin to float to surface.
Remove with a slotted spoon and place in prepared baking dish.
Repeat with remaining dumplings.
Sprinkle remaining parmesan cheese on top dumplings.
Bake, uncovered, 20 minutes.
Serve with your favorite pasta sauce.

Related Recipes