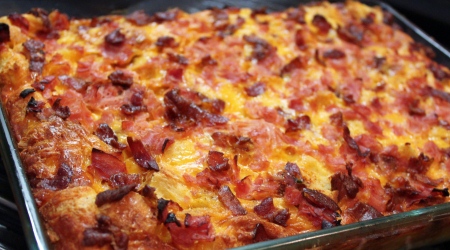 Fantastic breakfast idea for feeding a crowd! This is a KP original recipe (based on a casserole that my Mom makes) and is a family favorite. Whenever I make it, I get rave reviews!
Ingredients:
1 lb. sourdough bread, day-old, cut into 1-inch cubes
2 cups sharp cheddar cheese, shredded
8 eggs, slightly beaten
4 cups milk
1 Tablespoon dried minced onions
1 Tablespoon smoked paprika
1 cup cooked ham, chopped
1 cup cooked bacon, crumbled
Garlic salt and freshly ground black pepper, to taste
Directions:
Pre heat oven to 350 degrees F.
Spray a 9×13 glass baking dish with Pam cooking spray. Set aside.
In a large bowl, whisk together eggs, milk, onion flakes, paprika, garlic salt and pepper. Set aside.
Place bread cubes in bottom of prepared pan.
Top with shredded cheddar.
Pour egg mixture over cheese and bread cubes in pan.
Using a large spatula, gently press down, ensuring all bread is covered with egg mixture.
Top with ham and bacon.
Bake, uncovered, 40 minutes, until golden brown on top and set in center.
Allow to rest 5 minutes before slicing and serving.

Related Recipes