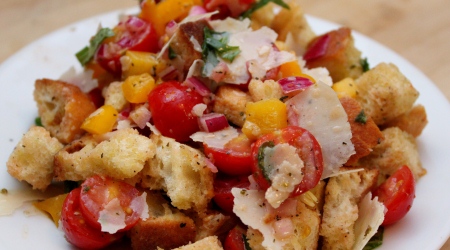 Let's be honest–sometimes lettuce just gets in the way of a good salad, right? So this salad doesn't even bother with lettuce–it's all delicious toppings in a tangy vinaigrette. Buy the freshest tomatoes, basil, and sweet peppers you can find. High quality ingredients are key to making this a "wow!"  salad. Would be good to make this after a trip to the Farmer's Market one summer Saturday. Thanks to Good Housekeeping magazine for the recipe.
Ingredients
3 cups fresh, ripe cherry tomatoes, halved
1 small red onion, diced
1 yellow sweet bell pepper, cut in 1-inch pieces
1/4 cup extra virgin olive oil, plus 1 Tablespoon, divided
1/4 cup red wine vinegar
1 Tablespoon dijon mustard
1/2 teaspoon dried Italian seasoning
8 oz. ciabatta bread, cut into 1-inch pieces
1 cup fresh basil leaves, chopped
Garlic salt and freshly ground black pepper, to taste
1/2 cup parmesan cheese shavings
Directions:
In large bowl combine tomatoes, onions and yellow sweet peppers.
In a separate small bowl, whisk together 1/4 cup olive oil, red wine vinegar, mustard, Italian seasoning, garlic salt, and freshly ground black pepper to taste.
Pour dressing over tomato mixture and gently stir to coat.
Cover and refrigerate overnight (up to 24 hours).
Preheat oven to 400 degrees F.
In a shallow baking pan, toss bread cubes with 1 Tablespoon olive oil. Season with salt and pepper, to taste.
Bake 10 minutes or until toasted, stirring once.
Remove and cool on pan.
Add bread cubes and chopped basil to tomato mixture. Toss to coat.
Top with shaved parmesan.
Serve immediately.

Related Recipes