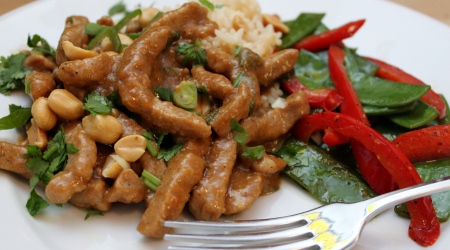 Here's a fresh idea for pork! Look for pork strips or medallions in the meat section of your grocery store. If you can't find them, you can buy boneless pork chops and cut them into strips yourself. This sauce is delicious! Be sure to scoop lots on your rice when serving. And am I the only one who could practically drink peanut sauce?? Love it! Thanks to my friend Jennifer for the recipe. I only changed it up a bit.
Ingredients:
1 lb. pork medallions or strips
1 Tablespoon extra virgin olive oil
Kosher salt and freshly ground black pepper, to taste
4 green onions, chopped
3 fresh garlic cloves, minced
1 Tablespoon fresh ginger, minced
1/4 cup creamy natural peanut butter
1 Tablespoon granulated sugar
1 Tablespoon soy sauce
Dash of cayenne pepper (add more if ya like it spicy)
1/2 cup peanuts
1/4 cup fresh cilantro, chopped
Cooked rice and sauteed snow peas with red bell peppers, for serving
Directions:
Heat oil in a large skillet over medium heat.
Season pork with salt and pepper.
Add pork to pan and cook until browned on all sides, about 6 minutes.
Add garlic and ginger to pan and cook, stirring, 1 minute.
While pork is cooking, whisk together peanut butter, sugar, soy, and cayenne in a bowl.
Add peanut butter mixture into skillet with pork and juices (it will be thick). Note–if your pork doesn't produce about 3/4 cup of juices in the skillet, then add water to equal 3/4 cup.
Stir to combine and bring to a boil.
Reduce heat to low and simmer 2 minutes until thickened.
Remove from heat and stir in peanuts and cilantro.
Serve over hot rice, with sauteed snow peas and red bell peppers.

Related Recipes