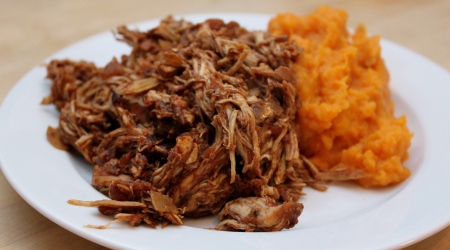 Holy mole! (I couldn't resist.) This chicken is fantastic! If you think you won't like chocolate with your poultry–TRUST ME on this–you will. After cooking all day in the spices and tomatoes, the chicken doesn't taste like chocolate at all. Serve this with Roasted Smashed Sweet Potatoes and fresh corn on the cob. Or for a more traditional side, pair it with Mexican Rice & Beans. I found this recipe while surfing the blogosphere on: danasfoodforthought.wordpress.com. Thanks Dana!
Ingredients
1 1/2 lbs. boneless, skinless chicken breasts
1 large onion, chopped
1/4 cup almonds, crushed
1 Tablespoon chili powder
1 teaspoon ground cumin
1/2 teaspoon cinnamon
1 can (14 oz.) diced tomatoes, un-drained
1 1/2 oz. bittersweet chocolate
1 teaspoon oregano
Kosher salt and freshly ground black pepper, to taste
1 chicken bouillon cube, crushed
1/2 cup water
Directions:
Spray slow cooker with cooking spray.
Add all ingredients to slow cooker, except chicken.
Stir well to combine.
Add chicken and nestle it into the sauce, scooping some on top each breast.
Cover and cook on low 5 to 7 hours, depended on your slow cooker.
I know you're not supposed to–but I stirred this twice during cooking. Up to you.
When chicken is fully cooked, shred chicken by using two forks and pulling in opposite directions.
Mix chicken back into sauce and serve.

Related Recipes