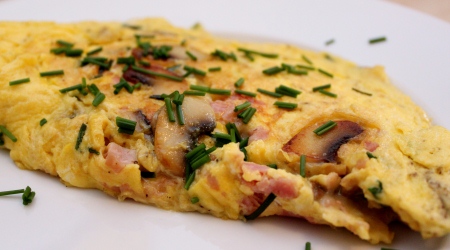 Americans eat this for breakfast with toast–the French eat this for lunch with a tossed salad. Either way, it's delish! The key to successful omelet making is having an 8-inch, non-stick skillet to cook with. Don't even try making an omelet in the wrong size skillet–unless you want scrambled eggs

This is a KP original recipe, but I got the idea from my favorite cafe in Luxembourg, Oberweis. This is my favorite lunch to order!
Ingredients:
3 eggs
1 teaspoon water
Kosher salt and freshly ground black pepper, to taste
1 teaspoon butter
1/2 cup fresh mushrooms, sliced
1 Tablespoon fresh chives, chopped
1/4 cup cooked ham, chopped
1/4 cup Swiss cheese, shredded
Directions:
Melt butter in an 8-inch, non-stick skillet, over medium heat.
Add mushrooms and saute 5 minutes.
Add chives and ham to skillet and saute 1 minute.
In a small bowl, whisk together eggs and water.
Pour eggs into pan, over mushroom mixture.
Season with salt and pepper, to taste.
Allow to cook over medium heat until almost set. Do not stir.
Sprinkle cheese over egg mixture in pan.
Using a rubber spatula, carefully lift half the egg mixture and gently fold in two.
Continue cooking on low heat, about 3 minutes, until cheese melts.
Carefully slide omelet on to plate and serve. Top with additional fresh chives, salt and pepper, if ya like.

Related Recipes