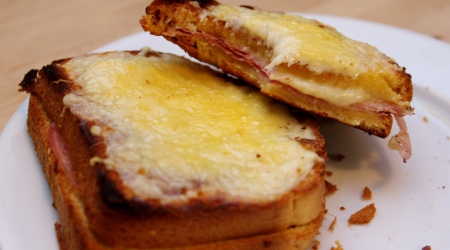 Here's my take on the famous French ham and cheese sandwich, known as a "Croque-Monsieur". It puts the American "grilled cheese" sandwich to shame! (I'm sorry to say, but it's true.) Now this recipe definitely takes some time, as it involves making a bechamel sauce to smear over the sandwich. But it's worth it for all the added creaminess and gooeyness. And yes, you have to cook this sandwich both on the stove top and in the broiler–a huge pain I agree, but try this recipe one night when you have some extra time. It's good enough to serve for dinner paired with soup or salad. Bon appetit!
Ingredients:
3 Tablespoons butter, divided
2 Tablespoons all purpose flour
1 cup milk
Pinch of ground nutmeg
1 bay leaf
Kosher salt and freshly ground black pepper, to taste
6 slices firm white sandwich bread
6 oz. thinly sliced ham
6 oz. sliced Gruyère cheese
1/4 cup grated Gruyère cheese
Directions:
Melt 2 Tablespoons butter in small saucepan over medium heat.
Add flour and stir 1 minute.
Gradually whisk in milk.
Add nutmeg and bay leaf.
Increase heat to medium-high and boil until sauce thickens, whisking constantly, about 2 minutes.
Season with salt and pepper.
Set sauce aside.
Pre heat broiler.
Place 3 bread slices on work surface.
Top each with even portions of ham and sliced Gruyère.
Top with remaining bread.
Heat a large skillet over medium low heat.
Brush sandwiches with remaining 1 Tablespoon butter.
Add to skillet and cook until deep golden brown, about 3 minutes per side.
Transfer to a baking sheet.
Remove bay leaf from sauce and stir.
Spoon 1 Tablespoon sauce, then 1/3 grated cheese, over each sandwich.
Broil until cheese begins to brown, about 2 minutes.
Serve immediately.

Related Recipes