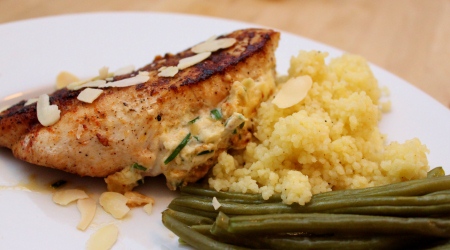 Yet another idea to dress up boring chicken breasts, thanks to Cooking Light magazine! This turned out waaaay better than I anticipated. The cheese and almond filling is so good and gives tons of flavor to the chicken. And it doesn't ooze out while cooking (like I thought it might). Serve this with couscous and steamed green beans.
Ingredients:
1/3  cup herb-flavored Boursin spreadable cheese
1/4  cup slivered almonds, toasted, coarsely chopped and divided
3  Tablespoons fresh chives, chopped and divided
4 skinless, boneless chicken breasts
1 teaspoon Herbs de Provence
1/2 teaspoon paprika
Garlic salt and freshly ground black pepper, to taste
1 Tablespoon extra virgin olive oil
1 teaspoons butter
Directions:
Combine Boursin cheese, 3 Tablespoons almonds, and 2 Tablespoons chopped chives in a small bowl. Set aside.
Using a very sharp knife, cut a horizontal slit through thickest portion of each chicken breast to form a pocket.
Stuff 1 1/2 Tablespoons almond mixture into each pocket.
Secure each pocket with a wooden pick.
Sprinkle each chicken breast evenly with Herbs de Provence,  paprika, garlic salt and pepper.
Heat olive oil and butter in a large nonstick skillet over medium heat.
Add chicken to pan and cook 8 minutes per side or until cooked through.
Remove skillet from heat and cover.
Let chicken sit in pan for 2 minutes.
To serve, top each chicken breast with remaining almonds and chives.

Related Recipes