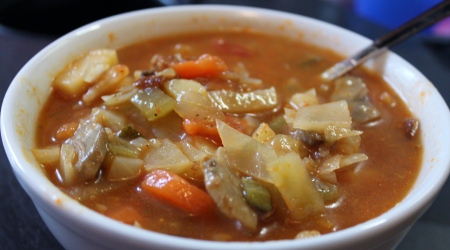 Forget plain old cabbage soup–try this smoky version made with bacon and smoked paprika! It's packed with flavor and veggies. Look for smoked Spanish paprika in the spice aisle of your grocery store–it has more depth of flavor than regular paprika. This soup is fantastic served with fresh bread smeared with cream cheese.
Ingredients:
4 pieces bacon, chopped
1 Tablespoon extra virgin olive oil
1 Tablespoon butter
1 large white onion, peeled and diced
1 cup carrots, diced
1 cup celery, diced
2 cups sliced mushrooms
4 cups fresh green cabbage, chopped
1 large zucchini, washed and diced
1 (14 oz.) can diced tomatoes, undrained
6 cups vegetable stock
2 bay leaves
1 teaspoon dried Italian herbs
2 teaspoons smoked Spanish paprika
Fresh ground black pepper and kosher salt, to taste
1 cup potatoes, diced
Directions:
In a large stock pot, cook chopped bacon over medium high heat 5 minutes.
Add olive oil and butter. Stir until butter melts.
Add onions, carrots, celery, and mushrooms.
Saute over medium heat for 15 minutes, until veggies are fork tender.
Add remaining ingredients EXCEPT POTATOES. Stir to combine.
Bring to a boil.
Cover and reduce heat to a low simmer.
Simmer, covered, 1 hour. Stir occasionally.
Add potatoes and 1 cup water.
Cover and simmer 1 additional hour. Stir occasionally.
Remove bay leaves and serve immediately.

Related Recipes