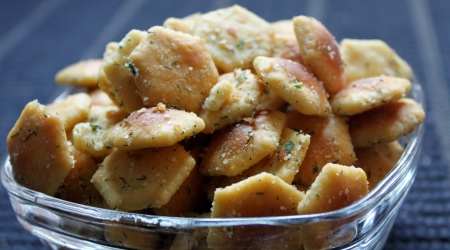 These are a complete guilty pleasure! There's really no reason on earth to add more oil and salt to a box of crackers–but oh boy are they tasty! Luckily when I make these, they're gobbled up by my family before I can eat too many. And I feel a little better eating them as a salad topping. Maybe that's balance???
Ingredients:
18 oz. oyster crackers
1 packet Hidden Valley Ranch dressing mix, dry
1 teaspoon garlic powder
1 teaspoon dill weed
1/2 cup extra virgin olive oil
Directions:
In a large bowl, whisk together olive oil, ranch dressing packet, garlic powder, and dill weed.
Stir in oyster crackers until evenly coated.
Let set about an hour, until dry. Stir occasionally.
Store in an air tight container.

Related Recipes