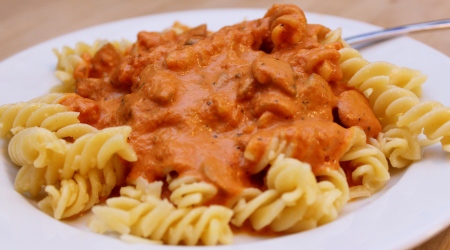 You can buy pretty good jars of pre-made Vodka sauce at the grocery store (I used to like Trader Joe's in the US). But if you ever fancy making your own, here's a tasty KP original recipe for ya! Serve over hot cooked pasta with lots of parmesan cheese. Delish!
Ingredients:
2 Tablespoons extra virgin olive oil
2 Tablespoons butter
2 shallots, chopped
2 (14 oz. each) cans diced tomatoes, undrained
1 (14 oz.) can tomato sauce
2 small cans tomato paste
1 teaspoon garlic powder
1 teaspoon dried Italian herbs
8 fresh basil leaves, chopped
Pinch of granulated sugar
Kosher salt and fresh ground black pepper, to taste
12 oz. fresh white mushrooms, sliced
1/2 cup vodka
2 cups heavy cream
Cooked pasta and freshly grated parmesan cheese, for serving
Directions:
Heat olive oil in a large saucepan, over medium high heat.
Add shallots and saute until golden brown, about 5 minutes.
Add chopped tomatoes, tomato sauce, and tomato paste to saucepan.
Using a handheld blender, puree sauce until desired consistency.
Stir in Italian seasoning, basil, garlic powder, sugar, salt and pepper.
Bring to a boil.
Cover and reduce heat to low.
Simmer 1 hour to concentrate flavors.
While sauce is cooking, heat butter in a skillet over medium heat.
Add mushrooms and saute until golden.
Carefully add vodka and simmer 5 minutes to cook off alcohol.
Stir in heavy cream and just bring to a simmer.
Pour cream mixture into tomato puree. Stir to combine.
Taste and add more salt and pepper if necessary.
Serve sauce over hot cooked pasta, and top with lots of freshly grated parmesan cheese.

Related Recipes