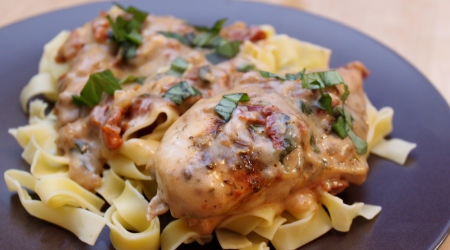 I made this last night for dinner and loved it!! Tons of flavor and easy to make. Found the recipe on campbellskitchen.com. I love trying new recipes using their creamy condensed soups!
Ingredients:
3 Tablespoons extra virgin olive oil
4 skinless, boneless chicken breasts, pounded to even thickness
2 teaspoons herbes de Provence
Freshly ground black pepper, to taste
1 shallot, finely chopped
1 can (10 3/4 oz.) condensed cream of mushroom soup
3/4 cup water
1/4 cup sun-dried tomatoes, thinly sliced
1 Tablespoon red wine vinegar
2 Tablespoons fresh basil leaves, chopped
4 cups egg noodles, cooked and drained according to package directions
1/2 cup freshly grated Parmesan cheese
Directions:
Heat 2 Tablespoons oil in a large skillet over medium-high heat.
Season both sides of chicken evenly with Herbs du Provence and pepper.
Add chicken to skillet and cook 10 minutes or until well browned on both sides.
Remove chicken from skillet and set aside to keep warm.
Heat remaining oil in the skillet over medium heat.
Add chopped shallot and cook 2 minutes, stirring often.
Stir soup, water, sun dried tomatoes, vinegar and chopped basil in skillet.
Return chicken to skillet and bring to a boil.
Reduce heat to low and cook 5 minutes or until chicken is cooked through.
Serve chicken and sauce over noodles, sprinkled with parmesan cheese.

Related Recipes