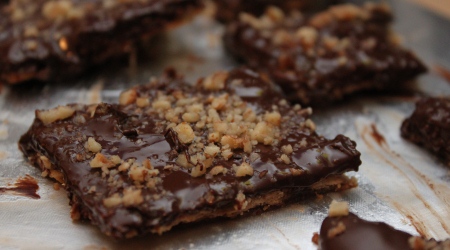 My dear friend Christina–why oh why did you introduce this recipe to me? It's incredible and addicting!! I ate half the tray today. If there are any left, I'll bring them to a holiday party tomorrow to share

Thank you my friend!
Ingredients:
40 saltine crackers
1 cup butter
1 cup packed dark brown sugar
2 cups chocolate chips
1/2 cup pecans, finely chopped
Directions:
Pre heat oven to 400 degrees F.
Line cookie sheet with tin foil and spray with Pam.
Place crackers in a single layer on cookie sheet, touching all sides.
In a medium saucepan melt butter.
Add sugar and stir until completely blended.
Bring mixture to a boil.
Continue boiling for 3 minutes, without stirring.
Immediately pour mixture evenly over crackers, spreading to cover all crackers.
Bake 5 minutes.
Remove from oven and immediately sprinkle with chocolate chips.
Let set 5 minutes.
Using a rubber spatula, evenly spread chips as they melt.
Sprinkle with nuts.
With a very sharp knife, cut into bars while warm.
Refrigerate in a single layer.

Related Recipes