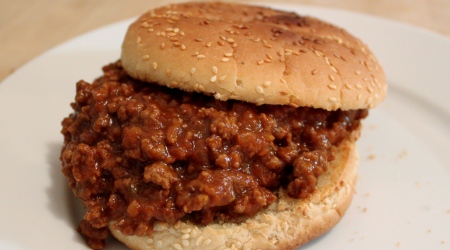 Thank you Parents magazine for this delicious Sloppy Joe recipe! I have been craving Sloppy Joes, but there are no mixes here in Luxembourg. Turns out I didn't need a mix after all–I had all the ingredients right in my fridge. These were easy and totally hit the spot. Serve with Classic Potato Salad, Oven Roasted Potatoes or Sweet Potato Fries for a great comfort food meal!
Ingredients:
1 lb. lean ground beef
1/2 small onion, finely chopped
1/2 green bell pepper, finely chopped
1 (8 oz.) can tomato sauce
2 Tablespoons ketchup
1 Tablespoon white vinegar
1 1/2 teaspoons Worcestershire sauce
2 teaspoons granulated sugar
1/4 teaspoon Tabasco
Directions:
Spray large nonstick skillet with Pam cooking spray.
Crumble in ground beef.
Add onion and green pepper.
Cook over medium heat for 8 minutes, stirring occasionally.
Add tomato sauce, ketchup, vinegar, Worcestershire, sugar and Tabasco.
Mix well, breaking up beef with a wooden spoon.
Simmer over medium-low, uncovered, for 10 minutes, stirring occasionally.
Spoon equal portions of meat mixture onto toasted hamburger buns.

Related Recipes