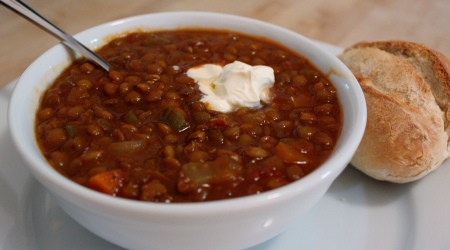 This was my first attempt at lentil soup and I gotta tell ya–I'd enter this soup in a contest. It's that good!!! It's completely vegetarian, and you'll never miss the meat. This soup fills you with hearty lentils and Indian inspired spices. Be sure to serve it topped with creme fresh and chopped chives. And of course and crusty roll too. Enjoy this soup–I sure did!
Ingredients:
2 Tablespoons extra virgin olive oil
1 medium yellow onion, chopped
1 cup carrot, peeled and chopped
1 cup celery, rinsed and chopped
1 lb. dry lentil beans, rinsed
1 (14 oz.) can diced tomatoes in juice, not drained
1 small can tomato paste
8 cups vegetable broth
1 cup water
2 teaspoons freshly grated ginger
1 teaspoon ground garam masala
1 teaspoon ground cumin
1/4-1/2 teaspoon ground cayenne (depending on how spicy ya like it!)
Kosher salt and freshly ground black pepper, to taste
Creme fresh and fresh chopped chives, for serving.
Directions:
Place olive oil in a large stock pot over medium heat.
Once hot, add onion, carrot, celery and salt and cook until onions are translucent, approximately 6 to 7 minutes.
Add lentils, diced tomatoes, tomato paste, broth, water and all spices.
Stir to combine.
Increase heat to high and bring just to a boil.
Reduce heat to low, cover and simmer about 1 1/2 hours, (or until lentils are tender). Stir occasionally.
Ladle soup into bowls, and top with dollop of creme fresh and fresh chives.
Serve immediately.

Related Recipes