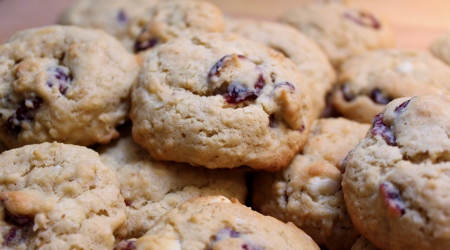 Add these festive cookies to any holiday dessert platter and they're sure to disappear! They're loaded with sweet ingredients, but the oatmeal helps keep balance so they taste just right!
Ingredients:
2/3 cup unsalted butter, softened
2/3 cup light brown sugar, packed
2 eggs
1/2 teaspoon vanilla
1 cup oats
1 1/2 cup all-purpose flour
1 teaspoon baking soda
1/2 teaspoon salt
1 cup sweetened dried cranberries
1/3 cup sweetened coconut flakes
1 cup white chocolate chips
Directions:
Preheat oven to 375 degrees F.
Using an electric mixer, beat butter and brown sugar together in a medium mixing bowl until light and fluffy.
Add eggs and vanilla, mixing well.
Combine oats, flour, baking soda and salt in a separate mixing bowl.
Add flour mixture to butter mixture in several additions, mixing well after each addition.
Stir in dried cranberries, coconut and white chocolate chips.
Drop by rounded teaspoonfuls onto ungreased cookie sheets.
Bake 10-12 minutes or until lightly golden brown.
Cool on wire rack.

Related Recipes