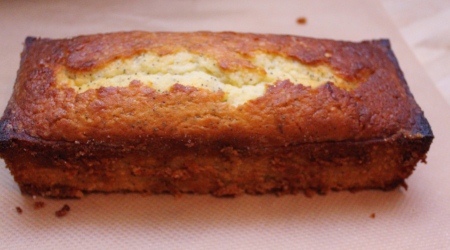 I've been making this for years. It's a great cake to give as a house warming gift or serve at a holiday brunch. It's light and sweet and perfect with a cup of tea!
Ingredients:
1 1/2 all-purpose flour
1 1/2 teaspoon baking powder
1/4 teaspoon salt
1/2 cup butter, softened
1 1/4 cup granulated sugar, divided
2 eggs
1/2 cup milk
1 teaspoon poppy seeds
2 lemons, juiced and divided
Directions:
Pre heat oven to 350 degrees F.
Grease and sugar a 9×5 loaf pan. Set aside.
Whisk together flour, baking powder and salt in a large bowl. Set aside.
In a separate large bowl, beat together butter and 1 cup sugar until light and fluffy.
Add eggs to butter mixture one at a time, beating well after each.
Add flour mixture to butter mixture alternately with milk, starting and ending with flour.
Add lemon juice from 1 lemon, poppy seeds, and grated peel from 1 lemon. Beat until smooth.
Scrape batter into prepared pan. Smooth top with spatula.
Bake 1 hour or until toothpick inserted into center comes out clean. (If top browns too quickly, tent with tin foil and continue baking.)
Cool 15 minutes in pan.
While cake is cooling, make lemon glaze by stirring together juice from 1 lemon with 1/4 cup sugar. Stir until sugar is completely dissolved.
Pour glaze evenly over cake.
Let cool thoroughly in pan before slicing.

Related Recipes