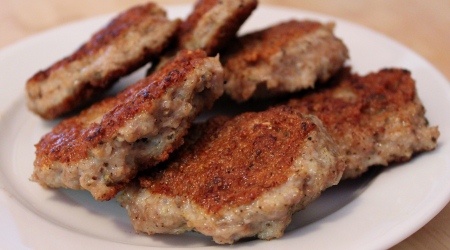 No Jimmy Deans over here people (which is probably a good thing!). But every now and then breakfast demands a good sausage. This recipe comes from the Mayo Clinic's website and is fantastic. Low in fat and full of flavor (I did add a few more seasonings to the recipe). And very easy to make! Oh, and toss a leftover pattie on a whole wheat English muffin with a slice of cheddar cheese the next morning for a great breakfast on the go!
Ingredients:
3 teaspoons dried sage
2 teaspoons dry mustard
2 teaspoons minced dried onions
1 teaspoon granulated sugar
1 teaspoons garlic powder
1/2 teaspoon celery salt
Kosher salt and freshly ground black pepper, to taste
1 Tablespoon extra virgin olive oil
1/2 lb. lean ground pork
1 1/2 lb. ground turkey breast
Directions:
In a large bowl, whisk together first 6 ingredients (sage thru celery salt).
Add ground pork and turkey, and mix throughly using clean hands.
Season with salt and pepper to taste and mix well.
Form mixture into 15 patties.
Heat oil in a large skillet over medium heat.
Add patties and cover.
Cook 5 minutes per side, until browned and juices run clear.
Serve immediately.

Related Recipes