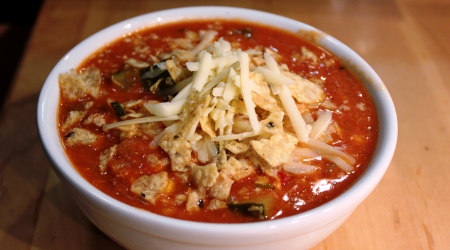 By now you must know how much I love Mexican food. Well this KP original soup is no exception–I love it! And if you go lightly on the toppings, it's a fairly healthy way to enjoy Mexican. This soup cooks up in less than an hour and is equally delicious right away or as leftovers the next day. It also freezes well. Ole!
Ingredients:
2 Tablespoons extra virgin olive oil
1 small fresh red onion, chopped
1 1/2 cup frozen corn kernels
1 red bell pepper, seeded and chopped
1 fresh zucchini, diced
5 cloves fresh garlic, chopped
2 cups cooked rotisserie chicken, chopped
1 teaspoon Zender's of Frankenmuth chicken seasoning (or other poultry seasoning)
1 Tablespoon ground cumin
Kosher salt and freshly ground black pepper, to taste
Dash Tabasco sauce (more if ya like it spicy!)
1 (28-ounce) can stewed tomatoes
1 small can tomato paste
1 small can diced green chilies
4 cups chicken stock
1/2 cup sour cream
3 Tablespoons fresh cilantro, chopped
Juice of 1 fresh lime
Avocado, shredded cheddar cheese and tortilla chips, for serving

Directions:
Heat olive oil in a large soup pot over medium heat.
Add onion, pepper, garlic, corn, and zucchini to soup pot.
Cook 8 minutes, or until veggies are slightly soft.
Add chicken to pot and stir.
Season with Zender's seasoning, cumin, salt and pepper.
Add tomatoes, tomato paste, Tabasco, chilies, and stock. Stir.
Bring soup to a boil.
Reduce heat to medium low, cover and simmer 40 minutes. Stir occasionally.
Remove from heat and stir in cilantro, lime juice and sour cream.
Serve soup immediately topped with shredded cheese, tortilla chips and avocado.

Related Recipes