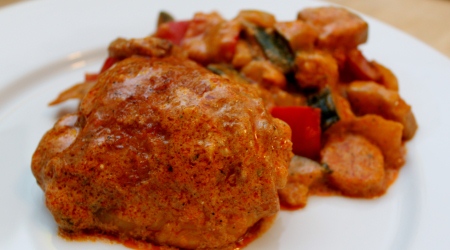 This was my first try at Chicken Paprikash, and it was a hit! I was pleasantly surprised at how tasty it was. I guess I thought it might be boring. But nope–it was full of delicious fresh, tomato, smoky flavor. Served over pasta, it was a complete meal. A definite keeper around here.
Ingredients:
2 Tablespoons extra virgin olive oil, divided
1 small yellow onion, peeled and chopped
1 red bell pepper, cleaned and chopped
1 small zucchini, cleaned and chopped
1 large carrot, peeled and chopped
4 fresh garlic cloves, minced
1 teaspoon dried Italian herbs
2 lbs. bone-in chicken pieces
1 Tablespoon tomato paste
1 Tablespoon ground paprika
2 bay leaves
1/2 cup water
Kosher salt and freshly ground black pepper, to taste
1/2 cup sour cream
Spiral pasta, for serving
Directions:
Heat 1 Tablespoons olive oil in a large deep-sided skillet over medium high heat.
Add onion, bell pepper, zucchini, and carrot.
Saute 8-10 minutes, until veggies are crisp-tender
Add garlic and dried Italian herbs. Saute 1 minute.
Scrape veggies into a bowl and set aside.
Carefully wipe skillet clean.
Add remaining 1 Tablespoon olive oil to skillet and heat over medium high heat.
Salt and pepper chicken pieces, to taste.
Brown chicken pieces in hot oil on all sides–about 5 minutes per side.
In a separate bowl, whisk together tomato paste, paprika, bay leaves and water.
Pour sauce into hot skillet with browned chicken pieces, and bring to a boil.
Carefully stir in sauted veggies.
Reduce heat to low, cover, and simmer 20 minutes, or until chicken is cooked thru.
Remove lid and discard bay leaves.
Stir in sour cream.
Scoop veggies and chicken over spiral pasta, and serve immediately.

Related Recipes