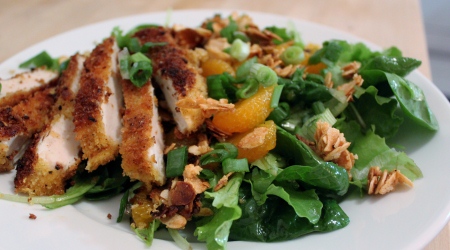 Sweet, sour, savory–this salad has it all! Thanks to my friend Jane for sharing this recipe with me at my wedding shower (almost a decade ago!) This recipe makes two large salads, so whip it up and invite a friend over for a great meal.
Ingredients:
1 cup Japanese Panko breadcrumbs
1 teaspoon Zenders of Frankenmuth chicken seasoning
1/2 teaspoon ground paprika
Kosher salt, and freshly ground black pepper, to taste
2 boneless, skinless chicken breasts
3 Tablespoons all-purpose flour
1 egg
1/4 cup slivered almonds
2 Tablespoons granulated sugar
2 green onions, sliced
1 cup canned mandarin oranges, drained
4 cups spring lettuce mix
1/2 cup extra virgin olive oil, plus 2 Tablespoons for pan
1/4 teaspoon ground white pepper
1/2 teaspoon celery salt
4 Tablespoons granulated sugar
4 Tablespoons white wine vinegar
1 small celery stalk, finely grated with juices reserved
Directions:
To make dressing, whisk together 1/2 cup olive oil, white pepper, celery salt, 4 Tablespoons sugar, white wine vinegar, and grated fresh celery with juices.  Whisk until well combined. Set aside.
To make candied almonds, place almonds and 2 Tablespoons sugar in a small skillet over medium heat. Cook, stirring often, until sugar has melted and almonds are lightly browned and caramelized. Scrape from pan onto wax paper and cool completely. Break apart and set aside.
To make chicken, place Panko in a shallow dish. Mix in chicken seasoning, paprika, salt and pepper to taste. Place flour in a separate shallow dish. Whisk egg with 1 Tablespoon water in a bowl. Heat 2 Tablespoons olive oil in a large skillet over medium high heat. Dredge each chicken breast in flour, shaking off excess. Then dip in egg mixture to coat. Next, place breasts in Panko mixture and press to coat entirely. Place in hot skillet and brown 8-10 minutes per side, or until chicken is cooked thru. Remove from pan and set aside.
To make salad, divide lettuce onto 2 plates. Evenly top with green onions, oranges, and candies almonds. Slice chicken breasts and add to salad. Toss with dressing to taste.

Related Recipes