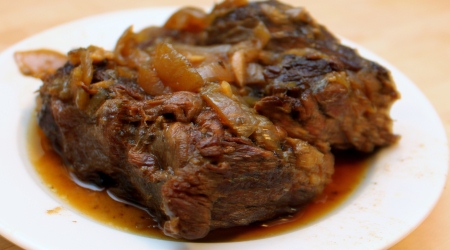 I make terrible pot roast. Awful. It's always too tough. So after years of failed attempts, guess what I finally figured out??? When it's tough, you have to cook it LONGER. I thought I was over-cooking the roast, but no!  Between that revelation and a recipe similar to this one from my friend Jennifer, I can happily say that my days of awful pot roast are behind me. I wish computers had a smell-button, because the house smells incredible while this slowly cooks all day.
Ingredients:
1 boneless beef chuck roast, about 4 lbs. (Look for one with lots of marbling.)
4 pieces bacon, chopped
1 teaspoon Lawry's original seasoning salt
Freshly ground black pepper, to taste (I used lots!)
2 teaspoons extra virgin olive oil, divided
2 whole onions, peeled and sliced thick
6 fresh garlic cloves, chopped
1 can beer (any kind)
1/2 teaspoon dried thyme
1/2 teaspoon dried rosemary leaves
3 large carrots, peeled and diagonally sliced into 1-inch pieces
6 red skin potatoes, scrubbed, skins on, quartered
Directions:
Heat 1 teaspoon olive oil a large skillet over high heat.
Add chopped bacon and cook 5 minutes.
Removed cooked bacon using a slotted spoon and put into sow cooker.
Add onion slices to bacon drippings in same skillet and saute 5 minutes, until slightly browned.
Add garlic and saute additional 30 seconds.
Remove onion mixture using a slotted spoon and put into slow cooker.
Season beef on both sides with seasoning salt and freshly ground pepper.
Add remaining 1 teaspoon olive oil to same skillet over high heat.
Once oil is hot, add beef and sear on both sides, about 4 minutes per side.
Remove from heat.
Add carrots and potatoes to slow cooker over onions, garlic and bacon.
Pour beer into slow cooker.
Add thyme, rosemary, and more pepper to taste.
Gently fold seasonings into beer/vegetable mixture in slow cooker.
Place seared meat  in slow cooker on top of vegetable/beer mixture, and put on lid.
Cook on low 6-8 hours or until meat is fork tender and falling apart.
Using a large slotted spoon, scoop out cooked potatoes, carrots and onions to serve with beef.

Related Recipes