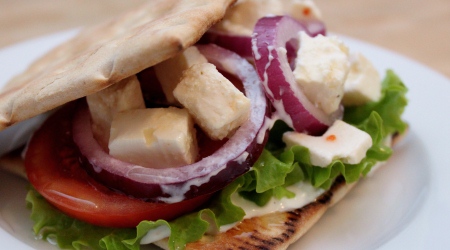 Give this vegetarian gyro recipe a try, for all the Greek flavor you crave, without the fatty meat! I found this recipe in Family Circle magazine and have been making it for years. I don't list specific amounts below, so layer on as much as you want into each pita. The recipe for Greek Cucumber Yogurt Dip–Tzatziki is also on this site.
Ingredients:
Greek Cucumber Yogurt Dip–Tzatziki
Whole-wheat pitas
Iceberg lettuce, sliced
Red onion, thinly sliced
Plum tomatoes, sliced
Garlic-and-herb flavored feta cheese, crumbled
Directions:
Prepare the Greek Cucumber Yogurt Dip–Tzatziki at least 2 hours in advance, to allow time to chill.
To make gyros, toast the pita bread. Then evenly layer the tzatziki sauce, lettuce, onion, tomato slices and feta.

Related Recipes