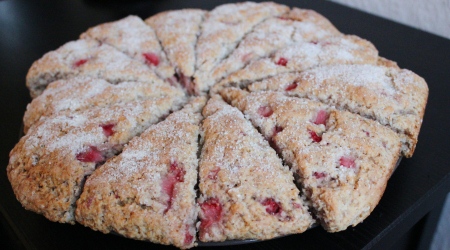 Try these fresh strawberry scones from Cooking Light magazine (I only changed one thing). Scones are like sweet biscuits, and are best served fresh from the oven with hot tea.
Ingredients:
1 1/2 cups all-purpose flour
2/3 cup whole wheat flour
1/2 cup granulated sugar
2 teaspoons baking powder
1/2 teaspoon baking soda
1/4 teaspoon salt
3/4 cup fresh strawberries, diced
2/3 cup strawberry yogurt
3 Tablespoons butter, melted
1/2 teaspoon almond extract
1 large egg white, lightly beaten
2 teaspoons granulated sugar

Directions:
Pre heat oven to 400 degrees F.
Lightly spoon flours into dry measuring cups and level with a knife.
Combine both flours, 1/2 cup sugar, baking powder, baking soda, and salt in a large bowl.
Combine strawberries, yogurt, butter, almond extract, and egg white in a separate bowl.
Add strawberry mixture to flour mixture, stirring just until moist.
Turn dough out onto a  floured surface and knead lightly 4 times with floured hands.
Pat into an 8-inch circle on a baking sheet coated with Pam cooking spray.
Cut into 12 wedges, cutting into but not through dough.
Sprinkle with 2 teaspoons sugar.
Bake 20 minutes or until lightly browned.

Related Recipes