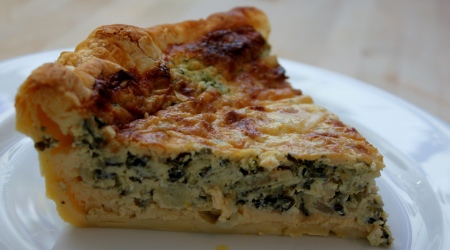 Here's a KP original quiche recipe for ya. I love Greek spinach pie, so decided to see if I could make something similar in a quiche. This turned out delicious! It's light and flavorful–the lemon and feta give it a great zing! Serve with a side salad for lunch–leftovers are also yummy as breakfast the next morning.
Ingredients:
1 (10 oz.) package frozen chopped spinach
3/4 cup fresh mushrooms, sliced
1/2 cup white onion, diced
2 fresh garlic cloves, minced
1 teaspoon extra virgin olive oil
4 eggs
3/4 cup heavy cream
1 cup milk
Kosher salt and freshly ground pepper, to taste
2 Tablespoons fresh lemon juice
1 cup herb flavored Feta cheese in oil, drained well and crumbled
1 prepared pie crust
3 Tablespoons fresh grated Parmesan cheese
Directions:
Pre heat oven to 375 degrees F.
Press pie crust into a pie plate and set aside.
Drain spinach and squeeze out as much moisture as possible–it should be fairly dry. Set aside.
Over medium heat, add olive oil to pan and saute onions, garlic and mushrooms for 8 minutes, or until tender.
Stir in spinach and set aside to cool.
In a separate bowl, whisk together eggs, cream and milk.
Add salt, pepper, and lemon juice and whisk only until blended.
Stir in cooled spinach mixture and Feta cheese.
Scrape mixture into crust.
Top with grated Parmesan cheese.
Bake 30 to 40 minutes, or until a knife inserted in center comes out dry.
Cool 10 minutes before serving.

Related Recipes