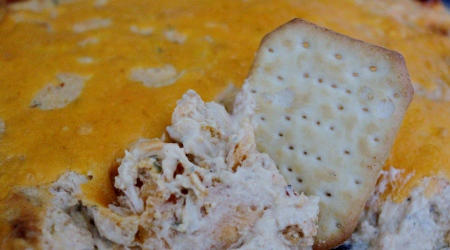 There are so many versions of this "Buffalo Chicken Dip" recipe out there, that I had to give it a try myself. What I came up with is a spicy, tangy, and let's be real, deliciously fatty dip! Be sure to make it for a crowd, so you don't end up eating it all yourself

Great served with crackers, celery sticks and tortilla chips.
Ingredients:
2 cups cooked rotisserie chicken, chopped
1 cup cream cheese, softened
1 packet Ranch dressing mix, dry
1/4 cup sour cream
1/4 cup hot sauce
1/4 cup blue cheese crumbles
1/2 cup sharp cheddar cheese, divided
Fresh chopped chives, for garnish
Crackers, celery sticks, and/or tortilla chips, for serving
Directions:
Pre heat oven to 350 degrees F.
In a large bowl, mix together cream cheese, sour cream, hot sauce, and Ranch dressing mix until well combined.
Stir in chicken, blue cheese, and 1/4 cup cheddar cheese.
Scrap mixture into pie plate.
Bake, un-covered, 20 minutes.
Remove from oven and top with remaining 1/4 cup cheddar cheese.
Bake additional 10 minutes until cheese on top is melted and dip is bubbly.
Top with chopped chives and serve hot.

Related Recipes