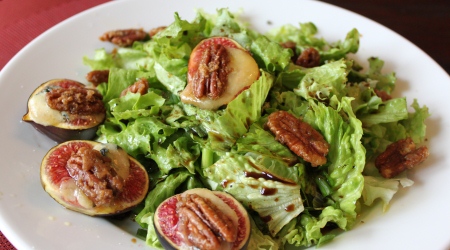 Figs intimidate me. They seem like such a fancy fruit and I never know what the heck to do with them. But whenever I eat them at a restaurant I absolutely love them. So when I stumbled across this recipe from my friend Karynn, and I saw fresh figs at every Luxembourg grocery store, I figured I might as well give 'em a try at home. And all I have to say is YUM! You can use these roasted figs on a salad (like I show here) or serve them as an appetizer. Oh, and I say to the figs–you little guys no longer scare me.
Ingredients:
1 Tablespoon butter
24 pecan halves
1 Tablespoon granulated sugar
1 Tablespoon light brown sugar
1 Tablespoon real maple syrup (not imitation)
12 fresh, ripe figs
1/2 cup blue cheese, crumbled
Fresh salad greens, as much as ya like
High quality balsamic vinegar and extra virgin olive oil, to taste
Kosher salt and freshly ground black pepper, to taste
Bunch of fresh green onions, chopped
Directions:
To make candied pecans, melt butter until foaming in a medium skillet over medium heat. Add pecans, granulated sugar, brown sugar, and maple syrup. Cook, stirring often, until sugar dissolves and mixture bubbles. Scrape mixture from pan and spread onto parchment paper in a single layer. Allow to cool.
To make roasted figs, pre heat oven to 400 degrees F. Cut figs in halt lengthwise. Thinly slice a small portion off the back of each fig and lay them flat on a baking sheet. Top each fig with blue cheese crumbles and a candied pecan. Roast 5 minutes, or just until cheese starts to melt. Remove immediately from oven.
To make salad, toss greens and green onions with balsamic, olive oil, salt and pepper, to taste. Divide between plates, and top with roasted figs. Add more crumbled blue cheese and candied pecans to salad, if ya got it.

Related Recipes