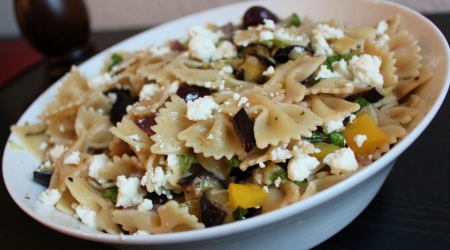 Roasting veggies makes them so sweet and flavorful! They're even more delicious tossed in this pasta with fresh basil, fresh lemon juice, olives and feta cheese. YUM! One tip–when buying eggplant, choose one that is firm and shiny, with no blemishes on the skin. Thanks to my friend Karynn for this recipe (I only changes a few things).
Ingredients:
1 large eggplant, chopped (not peeled)
1 large yellow bell pepper, chopped
1 large red onion, chopped
5 fresh garlic cloves, chopped
1/2 cup extra virgin olive oil, divided
Kosher salt and freshly ground black pepper, to taste
10 oz. whole wheat Farfalle pasta
Juice from 2 fresh lemons
1/2 cup kalamata olives, sliced
18 fresh basil leaves
1 teaspoon dried oregano
1/2 cup feta cheese, crumbled
Directions:
Pre heat oven to 450 degrees F.
On a rimmed baking sheet, toss chopped eggplant, bell pepper, onion, and garlic with 1/4 cup olive oil. Season with salt and pepper, to taste.
Put in oven and roast 15 minutes.
Remove and carefully toss veggies.
Roast additional 15 minutes, or until tender and lightly browned.
While veggies are roasting, cook pasta according to package directions.
Drain pasta and transfer to large serving bowl.
Whisk lemon juice with remaining olive oil and toss with pasta.
Add roasted veggies, olives, basil, and oregano to pasta. Toss to combine.
Top with feta cheese and serve immediately.

Related Recipes