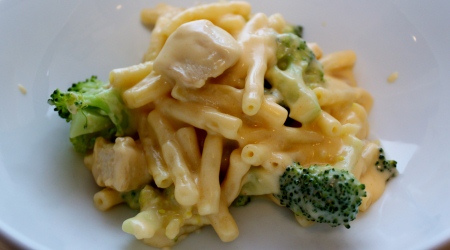 Thanks to Rachel Ray for this yum-o mac and cheese recipe. It's a complete meal in one pot! I've been making this ever since moving abroad–no "blue box" of mac and cheese readily available over here. Plus, really, this is soooo much better than the blue box. My son gobbles this meal, and I'm pretty sure he forgets he's eating broccoli as it's smothered in cheese sauce

Ingredients:
2 Tablespoons extra virgin olive oil
3 boneless, skinless chicken breasts, chopped
Kosher salt and freshly ground black pepper, to taste
1 small onion, chopped
1 pound macaroni pasta
2 1/2 cups fresh, raw broccoli florets
3 Tablespoons butter
3 Tablespoons all-purpose flour
1/2 teaspoon cayenne pepper
1 teaspoon paprika
3 cups whole milk
1 cup chicken stock
3 cups yellow sharp cheddar cheese
1 Tablespoon Dijon mustard
Directions:
Heat a large pan over medium-high heat.
Add extra virgin olive oil and chicken to pan. Season with salt and pepper.
Saute chicken 5 minutes.
Add onion and cook another 7 minutes, until onions are tender and chicken is cooked through. Turn off heat and set aside.
In a large pot, bring water to a boil. Add pasta and salt (to season the cooking water).
Cook pasta 5 minutes.
Then add broccoli to boiling pot of pasta and cook 3 minutes, until pasta is cooked al dente and broccoli is just tender. Drain and set aside.
While pasta cooks, heat a separate medium sauce pot over medium heat.
Add butter and melt.
Next add flour, cayenne and paprika. Whisk together over heat, until mixture bubbles.
Cook 1 minute more.
Whisk in milk and stock and raise heat to bring sauce to a quick boil.
Simmer until sauce thickens, about 5 minutes. Remove from heat.
Add cheese to milk sauce and stir to melt it in, a minute or so.
Stir in mustard and season sauce with salt and pepper.
Pour sauce over chicken and broccoli and cooked pasta and stir to combine.

Related Recipes