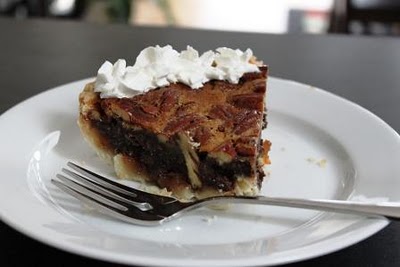 This chocolaty, nutty pie is sweet and rich and so easy to make! It's one of those recipes that looks like way more work then it is. So serve it to company if you're looking to impress

Ingredients:
1 refrigerated pie crust
1 cup light corn syrup
1/2 cup granulated sugar
1/4 cup butter, melted
1 teaspoon pure vanilla extract
3 eggs
1 cup semi-sweet chocolate chips
1 1/2 cup pecan halves
Directions:
Pre heat oven to 325 degrees F.
Press pie crust into the bottom and up the sides of a 9-inch glass pie pan. Set aside.
In a large bowl, combine corn syrup, sugar, butter, vanilla, and eggs.
Using an electric mixer, beat well (about 3 minutes).
Stir in chocolate chips and pecan halves.
Spread filling evenly into crust-lined pie pan.
Bake 55-65 minutes, or until deep golden brown and filling is set.
Cool at least 2 hours before serving.
Serve with fresh whipped cream, if desired.
Refrigerate leftovers.

Related Recipes