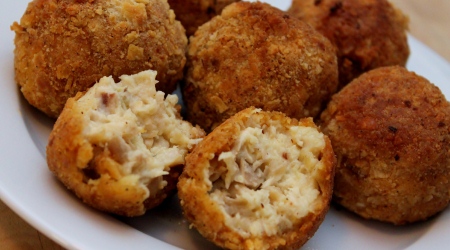 This recipe comes from my mother-in-law and is absolutely delicious! If you've never tried a croquette before, it's sorta like a meatball with breading. Great with chicken or turkey. Croquettes do take some time and energy to prepare, so plan ahead. Serve them with mash potatoes and fresh steamed veggie of your choice for a great dinner!
Ingredients:
2 cups cooked chicken (A pre-cooked rotisserie chicken from the grocery store is perfect for this. Can also use cooked roasted turkey.)
2 teaspoons minced dried onion
1/4 cup butter
1/4 cup all-purpose flour
1 cup milk
1 egg
Extra virgin olive oil
Buttery crackers, about 30
2 Tablespoons all-purpose flour
2 teaspoons Zender's of Frankenmuth Chicken Seasoning (or other brand if you can't get Zender's)
1 teaspoon paprika
Kosher salt, freshly ground black pepper, to taste
Directions:
Dice cooked chicken (or turkey) and place in a medium bowl. Add dried onion. Generously add salt and pepper, to taste. Stir and set aside.
Place butter in a large non-stick skillet and melt over medium-high heat, stirring frequently.
Whisk 1/4 cup flour into melted butter and cook 1 minute.
Add milk to skillet, whisking constantly, to incorporate butter/flour mixture.
Bring mixture to a boil, stirring constantly, and cook 1 minute. (Mixture is done when it pulls away from sides of skillet and is thick and sticky consistency).
Remove skillet from heat and stir in diced chicken mixture until well combined.
Place mixture in a covered container and refrigerate 4-6 hours, or overnight.
Pre heat oven to 350 degrees F.
Place crackers in a zip-lock bag and seal (pressing out all air). Using flat side of a meat mallet, crush crackers finely.
Add to bag, 2 Tablespoons flour, chicken seasoning, paprika, salt and pepper to taste. Shake to mix. Set bag aside.
In a small bowl, create "egg wash" by whisking 2 Tablespoons water with egg. Set aside.
Remove chicken mixture from refrigerator. Using your hands, take about 2 Tablespoons of mixture at a time and roll between palms, forming 8-10 equal sized croquettes. Set aside.
One at a time, dip each croquette into egg wash, then roll into cracker crumbs to coat.
Repeat by dipping again in egg wash and again in cracker coating to double coat each croquette. Set aside.
In a large non-stick skillet heat 2 Tablespoons olive oil over medium-high heat.
Place croquettes in hot skillet and brown on all sides, carefully turning with tongs. (Cook in batches as to not over-crowd skillet.) Add a bit more oil if skillet gets dry.
Place browned croquettes in 11 x 7 baking dish, coated with Pam cooking spray.
Bake UNCOVERED 20-25 minutes, until heated through.
Remove from oven and allow to set for 5 minutes before serving.

Related Recipes