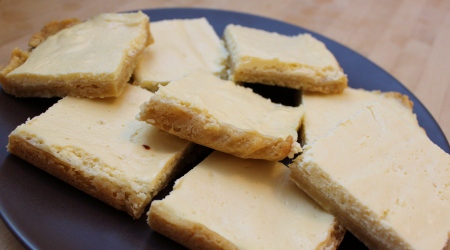 These rich and creamy cheesecake bars are delicious as is, but you can dress them up with fresh berries, hot fudge, and/or real whipped cream. Recipe comes from Everyday Food magazine.
Ingredients:
5 Tablespoons, plus 1 teaspoon unsalted butter, at room temperature
1/3 cup light brown sugar, packed
1 cup all-purpose flour
1 (8 oz.) package cream cheese, at room temperature
3/4 cup granulated sugar
1 egg
1 Tablespoon milk
1 Tablespoon fresh lemon juice (do not use bottled)
1/2 teaspoon pure vanilla extract
Directions:
Pre heat oven to 350 degrees F.
Line 9×9-inch baking pan with two criss-crossed rectangles of parchment paper, leaving 2-inch overhang on all side.
With an electric mixer, cream butter and brown sugar.
Add flour and mix until just combined.
Press dough into bottom and a quarter inch up sides of prepared baking pan.
Bake 10 minutes, until golden brown.
While crust is baking, beat cream cheese and granulated sugar in a large bowl until smooth.
Add egg, milk, lemon, and vanilla.
Mix to combine.
Spread filling into baked crust.
Return to oven and bake 20-25 minutes, until filling is set.
Cool. Cover and refrigerate at least 1 hour before cutting.

Related Recipes