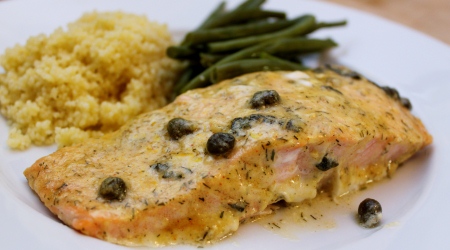 This is "fancy salmon" in our house. Definitely a company-worthy dish. The flavors are amazing–salty and buttery, with just a hint of Dijon. As a bonus, my 3 year old devours it! Serve with Oven Baked Wild Rice, Oven Roasted Potatoes, couscous, or fresh steamed green beans for a great dinner.
Ingredients:
4 fresh salmon fillets
1 Tablespoon extra virgin olive oil
1 Tablespoon butter, melted
1 Tablespoon Dijon mustard
4 fresh garlic cloves, minced
1/2 teaspoon ground cayenne pepper
1 teaspoon dried basil (My mom made her own dried basil from her fresh garden herbs–YUMMY!!!)
1 teaspoon dried dill
1 Tablespoon capers
Directions:
Pre heat oven to 400 degrees F.
In a large measuring glass, whisk together all ingredients (except salmon fillets) until well combined.
Spray baking dish with Pam cooking spray.
Place 4 salmon fillets in prepared dish.
Pour sauce evenly over fillets.
Cover dish tightly with tin foil and bake 15-20 minutes, until salmon is light pink and flakes easily with a fork.
Serve immediately and spoon extra sauce over fish.

Related Recipes