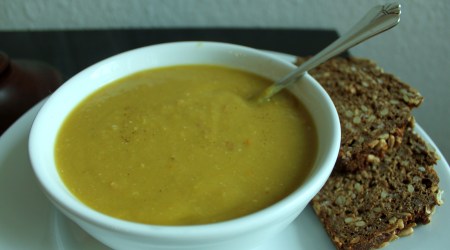 Did you know that the Dutch are famous for split pea soup? I didn't learn that until I lived there. "Erwtensoep" is served seasonally, when the weather turns cold and a thick, hearty soup is just what you're in the mood for. In Holland the soup is served with a few slices of dark wheat or rye bread–it's a wonderful comfort-food meal!
Ingredients:
1 lb. dry split peas
1 Tablespoon extra virgin olive oil
3/4 cup raw bacon, chopped
1 cup fresh carrots, chopped
1 cup fresh celery, chopped
1 cup white onion, chopped
1 cup russet potato, scrubbed and diced
5 cups vegetable stock
2 cups cold water
Kosher salt and freshly ground black pepper, to taste
Directions:
In a large soup pot, heat olive oil over medium-high heat.
Add chopped bacon and cook 5-8 minutes, stirring often, until no longer pink.
Add carrots, onion, and celery and cook 8-10 minutes, until slightly tender (but not browned).
Rinse the split peas in a strainer under cold water and add to pot.
Add cold water and vegetable stock. Stir to combine.
Cover and bring to a boil.
Reduce heat to low.
Keep covered and simmer 3 1/2 to 4 hours.
Check and stir the soup often. The peas will soften and the soup will thicken as it simmers.
In the last half hour of simmering the soup, cook the potatoes in a separate pot of boiling water, 10-12 minutes.
Add cooked potatoes to soup and stir to combine.
Add salt and pepper to taste.
Serve with slices of fresh dark bread.

Related Recipes