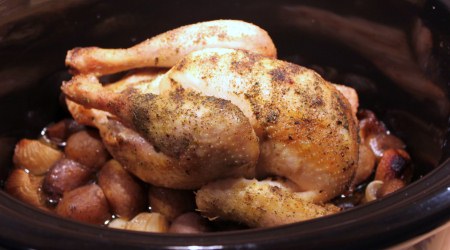 A slow cooker is a great way to make a complete meal in one pot! Best of all, you can prep everything in the morning, let it cook all day, and dinner is ready when you are. This chicken recipe is a favorite in my house!
Ingredients:
1 roaster chicken, giblets removed and cavity rinsed clean
15 small potatoes (white or red skins are good choices)
1 cup fresh carrots, peeled and cut into 2-inch pieces
2 small white onions, quartered and divided
1 Tablespoon garlic salt
1 Tablespoon Zenders of Frankenmuth Chicken Seasoning
2 teaspoons ground sweet paprika
2 teaspoons fresh ground black pepper
1 teaspoon onion powder
1/2 fresh lemon
6 fresh thyme sprigs
Directions:
Wash potatoes and place in bottom of slow cooker.
Place carrots on top of potatoes in slow cooker.
Place onions on top of carrots in slow cooker, reserving one quarter.
In a small bowl, combine garlic salt, chicken seasoning, paprika, pepper, and onion powder.
Rinse chicken and pat dry.
Generously rub seasoning blend over entire chicken, including cavity. Gently separate skin from breast using fingers and rub seasoning blend between skin and breast.
Place reserved onion quarter, half of lemon, and fresh thyme sprigs in chicken cavity.
Place prepared chicken in slow cooker, on top of veggies.
Place lid on slow cooker and cook on high 4-6 hours, or on low 7-9 hours. (Check your Slow Cooker manual for exact cooking time, as times vary by Slow Cooker.)
Let chicken stand 5 minutes after cooking until slicing.

Related Recipes