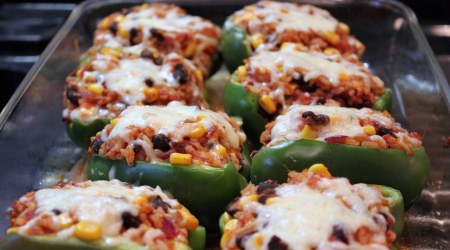 Here's a healthy way to eat Mexican food–not an easy task most of the time! These delicious bell pepper are loaded with rice, beans, tomatoes and spices. The house smells incredible as these bake in the oven. Give 'em a try!
Ingredients:
4 large green bell peppers, cut in half length-wise, cleaned and seeded
1 can black beans, drained and rinsed
1 can petite diced tomatoes, not drained
1 can diced green chilies
1 1/2 cup brown rice, cooked and cooled
1 cup corn kernels, thawed if frozen
1 medium red onion, diced
Dash Tabasco
1 teaspoon garlic powder
1 teaspoon chili powder
2 teaspoons ground cumin
Kosher salt and freshly ground black pepper, to taste
1 1/2 cups Monterey Jack cheese, shredded and divided (pepper jack if ya like it spicy!)
Extra virgin olive oil, for drizzling
Fresh avocado slices and sour cream for serving
Directions:
Pre heat oven to 350 degrees F.
Spray 9×13 pan with Pam cooking spray. Set aside.
Bring a large pot of water to a boil. Drop in pepper halves and boil 3 minutes. Remove immediately from boiling water and place in a bowl of ice cold water to stop cooking. Drain and pat dry. Set aside.
In a large bowl, mix together beans, tomatoes, chilies, cooked rice, corn, and onion.
Add Tabasco, garlic powder, chili powder, cumin, salt and pepper to taste. Stir to combine well.
Stir in 1 cup Jack cheese.
Place pepper halves in prepared pan.
Generously scoop rice/bean/tomato mixture into each shell, filling completely.
Drizzle each filled pepper with olive oil.
Cover tightly with tin foil and bake 30 minutes.
Remove foil and sprinkle remaining cheese evenly on top of each pepper.
Return to oven, un-covered, and bake additional 10 minutes.
Serve with fresh avocado slices and dollop of sour cream, if desired.

Related Recipes