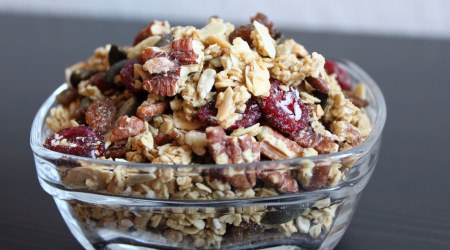 The best home-made granola I ever ate was in Hawaii, a few years back. Since then, I've been wanting to make my own. And I finally did! This maple-nut recipe is so tasty, I almost ate it all before I could snap a photo of it. Seriously. Sprinkle it on ice cream, mix it in a Fruit & Yogurt Parfait, or pour milk over it and enjoy! I found this recipe in Eating Well magazine (so it must be good, right??).
Ingredients:
5 cups old-fashioned rolled oats
1 cup unsweetened coconut flakes
1 cup  pecans, coarsely chopped
1/2 cup almonds, sliced
1/2 cup light brown sugar
1/3 cup unsalted pumpkin seeds
1/3 cup unsalted sunflower seeds
2 Tablespoons sesame seeds
1/2 cup pure maple syrup
1/2 cup water
1/4 cup canola oil
1/2 cup dried cranberries
1/2 cup raisins
Directions:
Pre heat oven to 275 degrees F.
Combine oats, coconut, almonds, pecans, brown sugar, pumpkin seeds, sunflower seeds and sesame seeds in a large bowl.
Separately, whisk together syrup, water and oil in a  large measuring cup
Pour syrup mixture over the oat mixture.
Stir until well combined.
Spread mixture into a large (12 x 15-inch) rimmed baking sheet.
Bake 45 minutes.
Remove from oven, stir, and continue baking until golden brown and beginning to crisp, about 45 minutes more.
When done baking, stir in cranberries and raisins.
Let cool completely before storing. Store tightly covered, for up to two weeks.

Related Recipes