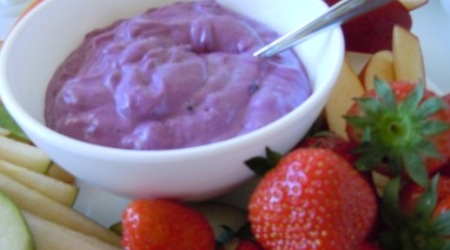 I used to make a fruit dip with marshmallow fluff and cream cheese–tasty, but not so healthy. So this is my new and improved fruit dip, made with yogurt. You can make either blueberry or strawberry flavored dip. It's delicious with fresh fruit slices. Plus kids love it, so try it at your next play date or birthday party!
Ingredients:
3 Tablespoons pure fruit preserves, divided (either strawberry or blueberry)
1 cup fruit yogurt (either strawberry or blueberry)
3 Tablespoons cream cheese, softened
Sliced fresh fruit for serving (strawberries, peaches, apples, pears, pineapple)
Directions:
In a medium bowl, beat 2 Tablespoons preserves into cream cheese using an electric mixer, until fluffy (about 1 minute).
Fold in yogurt.
Cover and refrigerate at least 1 hour before serving.
Before serving swirl in reserved 1 Tablespoon preserves.
Serve immediately with sliced fruit.

Related Recipes