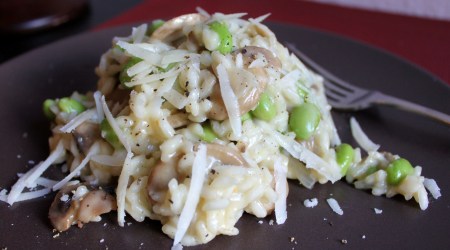 I try to serve vegetarian meals at least once a week. Saves money and spares my family a few fat grams. Here's a recipe for fantastic vegetarian risotto! The edamame adds a sweet, nuttiness that packs in protein. Serve as a main course with a side salad, or serve as a side dish with Simple Grilled Salmon or Sauté Prawns. Delish!
Ingredients:
2 Tablespoons extra virgin olive oil
8 oz. fresh white button mushrooms, cleaned and sliced
2 cups frozen edamame, thawed and shelled
3 cups vegetable broth, mixed with 1 1/2 cups water
1 small fresh white onion, finely chopped
1 1/3 cups arborio rice (risotto)
1/4 cup dry white wine
Freshly ground black pepper, to taste
1/2 cup freshly shredded parmesan cheese
Directions:
Heat 1 Tablespoon of olive oil in a large nonstick skillet over medium-high heat.
Add mushrooms and cook 5 minutes, stirring occasionally, until soft.
Stir edamame into mushrooms and cook additional 5 minutes. Set aside and keep warm.
Place broth and water in a medium-size saucepan and bring to a simmer.
In another large saucepan, heat remaining Tablespoon olive oil over medium heat.
Add onion and cook 5 minutes, stirring occasionally.
Add risotto and stir until risotto is coated with oil.
Cook 1 minute, stirring often.
Add wine and cook until wine is absorbed — about 1 minute
Add 1/2 cup of simmering broth mixture.
Cook over medium-low heat, stirring continuously, until broth is absorbed.
Add remaining broth mixture, 1/2 cup at a time, cooking in the same manner. This should take about 30 minutes total.
Gently stir mushrooms and edamame into risotto and remove from heat.
Stir in pepper and parmesan cheese.
Serve immediately.

Related Recipes