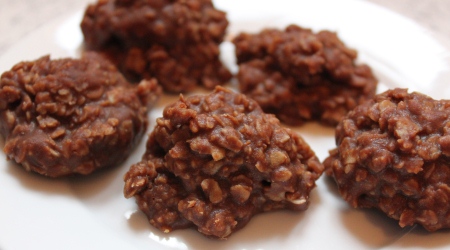 My husband grew up eating these sweet and rich cookies. And actually, they turn out more like a candy bar than a cookie. Which is tasty either way. And can I just say–Europe needs to get on board with the American love of chocolate and peanut butter together! They don't do it. Chocolate and hazelnut yes, but chocolate and peanut butter, no. I don't get it! An entire culture is missing out.
Ingredients:
2 cups granulated sugar
1/2 cup cocoa
1 stick butter
1/2 cup milk
1 cup peanut butter
1 Tablespoon vanilla
3 1/2 cups oats
Directions:
In a heavy saucepan combine sugar, cocoa, butter and milk. Bring to a boil.
Continue boiling 2 minutes.
Remove from heat, and stir in peanut butter, vanilla and oats.
Let cool slightly, about 5 minutes.
On a sheet of waxed paper, drop mixture by heaping teaspoonfuls.
Refrigerate until completely cold and hardened.
Store in a air-tight container in the fridge.

Related Recipes