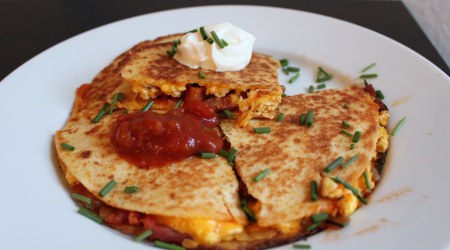 I made these cheesy quesadilla for my family last weekend. A perfect lazy Sunday morning meal. This KP original recipe makes 4 quesadilla, so cook for a crowd!
Ingredients:
8 corn tortillas
Pam cooking spray
1 Tablespoon butter
8 eggs
Kosher salt and fresh ground black pepper, to taste
Dash of Tabasco
12 strips bacon, chopped
2 cups sharp cheddar cheese, shredded
2 Tablespoons fresh chives, chopped
Fresh tomato salsa and sour cream, for serving
Directions:
Heat a large non-stick skillet over medium high heat. Cook chopped bacon, 10 minutes or until crispy. Using a slotted spoon, remove bacon pieces to a paper towel lined plate. Set aside.
Drain fat from skillet, leaving about 1 teaspoon in skillet.
Lower heat to medium.
Melt butter in same skillet.
Crack eggs into skillet and scramble. Cook 8-10 minutes, until desired doneness. Season with salt, pepper, and Tabasco. Set aside to keep warm.
Spray a separate non stick skillet with Pam cooking spray. Heat over medium high heat.
Place 1 tortilla in skillet.
Sprinkle with 1/2 cup cheese.
Top with a quarter of the egg mixture.
Add a quarter of the crumbled bacon.
Place another tortilla on top and gently press together.
Spray top of tortilla with Pam.
Cook 5-7 minutes.
Using a large spatula, carefully turn quesadilla over.
Cook additional 5 minutes, until cheese is melted and tortilla is golden brown.
Repeat with remaining tortillas, making 4 complete quesadilla.
Top with fresh chives, fresh tomato salsa, and sour cream.

Related Recipes