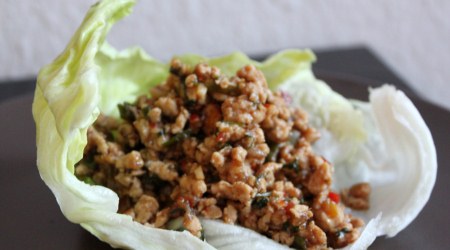 No P.F. Chang's restaurant over here people. (Which is probably a good thing, as their food is packed with sodium, oil, and fat.) But I do love their lettuce wraps! So here's my best effort to re-create them at home. The verdict? "Super-duper" according to my hubby. They are delicious and nutritious and crazy messy to eat. So stock up on napkins and dig in!
Ingredients:
1 Tablespoon vegetable oil
1/2 white onion, finely chopped
3 cloves fresh garlic, minced
1 cup fresh button mushrooms, cleaned and finely chopped
1 lb. ground chicken
1/2 red bell pepper, finely diced
1/2 yellow bell pepper, finely diced
1 teaspoon grated fresh ginger
1 Tablespoon fresh cilantro, finely chopped
1 Tablespoon green onions, finely sliced
3 Tablespoons soy sauce
3 Tablespoons hoisin sauce
2 Tablespoons rice vinegar
1 head fresh iceberg lettuce, cleaned, dried with leaves separated
Directions:
Bring a large wok or deep skillet up to medium high heat.
Add vegetable oil, onions, and garlic and saute 1-2 minutes until softened.
Add mushrooms, ground chicken, diced bell peppers, and ginger.
Cook, stirring constantly, on high heat 5 minutes, or until chicken is completely browned.
Drain liquid.
Add remaining ingredients and stir to combine.
Bring down to a simmer and cook 5 minutes until slightly thickened.
Scoop hot chicken mixture into lettuce pieces. Roll up and eat!

Related Recipes