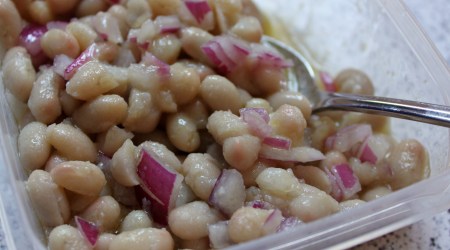 The first week we arrived in Luxembourg, we attended a BBQ where this bean salad was served. I was intrigued by it's simplicity, but skeptical that it would taste bland. But it was not bland at all–it was absolutely delicious! I will admit the temptation to add something more to this salad is strong–but you gotta trust me here. Make this recipe exactly as is and you won't be disappointed! And the next time you're asked to bring beans to a BBQ, skip the standard baked and bring these instead.
Ingredients:
3 (15 oz) cans white beans, drained and rinsed
1 medium purple onion, diced
1/2 cup high quality extra virgin olive oil (get the good stuff!)
1/4 cup white wine vinegar
Directions:
Pour olive oil into a large mixing bowl.
While whisking the oil with a large whisk, slowly add the vinegar. Continue whisking until emulsified.
Fold in beans and chopped onion.
Cover tightly and refrigerate 1 hour before serving. Serve at room temp.

Related Recipes