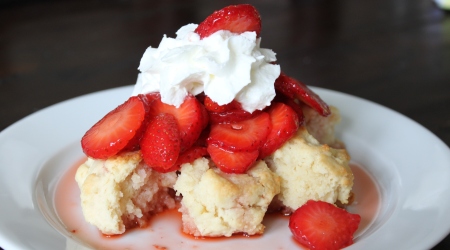 The last of the summer strawberries are still super sweet and delicious, so grab a bunch the next time you're out. And what better to do with fresh berries, than make a dessert?? This Strawberry Shortcake recipe is my own hybrid of about 10 other recipes that I found. I took all the best parts from the others and combined them into one perfect dessert! (If I do say so myself…) Especially great enjoyed with a chilled glass of white wine, sitting on the patio.
Ingredients:
5 cups fresh sliced strawberries
1/2 cup granulated sugar
2 teaspoons balsamic vinegar
2 1/3 cups Bisquick baking mix
3 Tablespoons butter, melted
1/2 cup milk
1/4 cup granulated sugar
1 teaspoon vanilla extract
Fresh whipped cream
Directions:
Place sliced strawberries in a large bowl.
Mix vinegar and 1/2 cup sugar into the strawberries.
Set aside at room temperature to macerate (which means that the sugar will soften the strawberries and help release their juices).
Allow strawberries to sit for 1 hour.
Pre heat oven to 425 degrees F.
Spray a cookie sheet with Pam cooking spray. Set aside.
Stir baking mix, melted butter, milk, vanilla and 1/4 sugar in mixing bowl until soft dough forms.
Drop by 5 spoonfuls onto prepared cookie sheet.
Bake 10-12 minutes or until golden brown.
To serve, break up shortcake into big pieces. Ladle strawberries over shortcake. Finish with a dollop of whipped cream.

Related Recipes