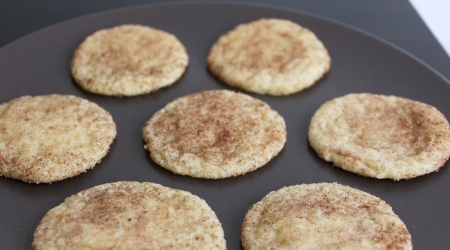 Growing up this was one of my favorite cookies. So on a Fall afternoon, my son and I baked up a batch. Now he has a favorite cookie too. The recipe is from Cooking Light magazine, so only 50 calories each (if you can eat only one!)
Ingredients:
1 3/4 cups all-purpose flour
1/2 teaspoon baking soda
1/2 teaspoon cream of tartar
1 cup granulated sugar
1/4 cup butter, softened
1 tablespoon corn syrup
1 teaspoon vanilla
1 large egg
3 Tablespoons granulated sugar
2 teaspoons ground cinnamon
Directions:
Preheat oven to 375 degrees F.
Lightly spoon flour into a dry measuring cup and level with a knife.
Combine flour, baking soda and cream of tartar with a whisk.
Combine 1 cup sugar and butter in a large bowl.
Beat with an electric mixer at medium speed until well blended.
Add corn syrup, vanilla and egg. Beat well.
Gradually add flour mixture to sugar mixture, and beat until just combined.
Cover and chill in refrigerator 15 minutes.
In a separate bowl, combine 3 Tablespoons sugar and cinnamon and stir with a whisk.
Spray cookie sheets with Pam cooking spray.
With moist hands, shape dough into 42 (1-inch) balls.
Roll balls in sugar/cinnamon mixture.
Place balls 2 inches apart onto baking sheets.
Gently flatten balls with the bottom of a glass.
Bake 5-8 minutes (cookies will be slightly soft).
Cool on baking sheets for 2 minutes.
Remove cookies from pans. Cool completely on wire racks.

Related Recipes